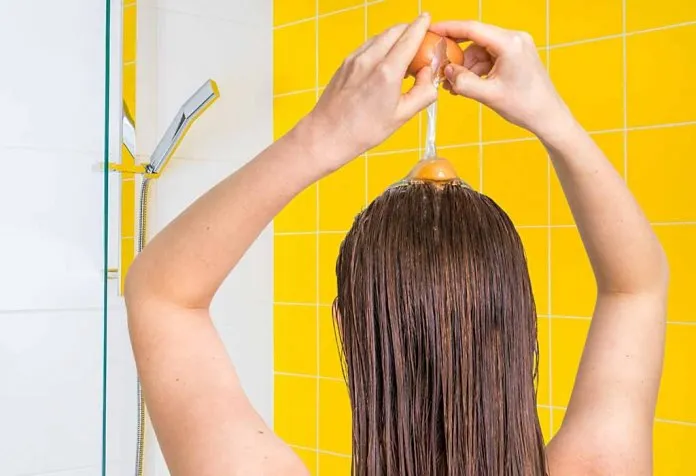 Who doesn't desire long, lustrous, healthy hair?
But common hair issues like brittle hair, hair loss can make it seem like an impossible dream
People may be ready to try expensive shampoos, hair masks, conditioners, hair serums and even exclusive hair treatments in their ambition to attain healthy-looking hair
Nonetheless, all efforts and money spent on making it a reality may go down the drain
But then again are you aware that strong and shiny hair may be merely an egg pop away
Eggs can be a natural alternative to prevent hair loss and enhance hair growth.
Amazing Benefits of Eggs for Hair
Eggs which are readily available in most households can be a wonderful inexpensive solution to all hair-related issues. Some advantages of egg on hair can be:
1. Supports Hair Growth
Eggs have an abundance of proteins which serve as nutrition for hair boosting its growth
It also promotes the healthy new growth of hair.
2. Restricts Hair Loss
Use of protein-enriched eggs helps in making the hair follicle stronger
It stimulates the scalp, strengthening the hair roots. Stronger hair is less expected to break and fall
3. Enhances Hair Elasticity
Egg yolks are high in lutein which hydrates the hair thereby improving its elasticity
It also helps in developing resistance to breakage which may translate into fewer split ends.
4. Adds Shine
Regular use of eggs on hair imparts ample nourishment infusing dull hair with a healthy shine
Eggs help preserve hair's natural oils, unlike shampoos which usually strip them away.
5. Fosters Repair
Hair is composed mostly of protein
The protein prevailing in eggs help build and heal the damaged structure of the hair thus making it thicker and less brittle
People with thin, lifeless hair may particularly benefit from the use of eggs.
6. Improves Texture
Applying eggs to hair makes it smooth and revamps the texture. Eggs act as a conditioner and can moisturize dry hair.
Which Part of The Egg Work Best for the Hair?
It is important to consider the type of hair while reflecting which part of the egg may work well for the hair
The white of an egg may suit oily hair more while an egg yolk can prove beneficial for dry hair
However, applying the whole egg may allow the hair to extract twin benefit of both the yolk and the white. It may be particularly rewarding for people with regular or combination hair.
Egg white contains the highest level of protein along with other minerals like riboflavin, niacin, potassium, magnesium, sodiu
All these nutrients assist in boosting hair growth
Benefits of egg white on hair may include regulation of excess oil production while maintaining hair's natural oils as well
Similarly, benefits of egg yolk for hair are also plentiful
The egg yolk in addition to protein comprises of folic acid and B-complex vitamins which makes it an ideal food for hair
The fatty constituents of the egg yolk are an excellent conditioner for the hair.
How to Use Eggs to Promote Hair Growth and Avoid Hair Loss?
There can be several ways to employ the goodness of eggs for hair beauty
Following are some of the ways:
1. Using Whole Egg for Healthy Hair
You may use whole egg alone or by blending it with other natural elements for beautiful locks
Ingredients
A whole egg
A tablespoon olive oil
Process Time
About 30 minutes
Procedure
Whisk olive oil and the whole egg in a bowl till they completely blend properly.
Apply the mixture on your hair
Ensure that the mixture evenly coats your hair.
After 30 minutes wash your hair. Use cool water instead of hot water. It may be tough to get rid of the egg smell with hot water.
Apply a suitable conditioner and allow it to air dry.
How Often to Do? 
One or two times every week
Why Does It Work? 
Putting a whole egg on hair may not only condition the hair but can also help in retaining scalp's oil balance
It can aid in providing nourishment to the hair roots and shafts which in turn may improve hair texture
It may also facilitate healthy hair growth.
2. Using Egg White
Egg whites may offer remarkable nutritional benefits for hair care.
Ingredients
Egg whites of two eggs
Olive oil or almond oil (one tablespoon)
A tablespoon of unsweetened yoghurt
Process Time
Around 30 minutes
Procedure
Whisk the oil and egg whites in a bowl to get a smooth blend.
Add the curd and whisk some more.
Apply the mixture evenly on all the hair strands.
Proceed to wash hair after 30 minutes with cool water. Hot water may cook the egg which can make clearing the hair of egg smell difficult.
Air dry your hair after conditioning.
How Often to Do? 
One or two times per week
Why Does It Work? 
Using egg whites with olive oil on hair may deeply condition the hair making it smooth and lustrous
Regular use may help you get an attractive bounce and volume to the hair.
3. Using Egg Yolk for Hair Growth
Sulfur, an important component of egg yolk is believed to enrich and strengthen the hair.
Ingredients
Egg yolks of 2 eggs
A tablespoon of olive oil
Process Time
Around 30 minutes
Procedure
Beat the oil and egg yolks together in a bowl to get a smooth paste.
Apply the beaten mixture to cover the scalp and hair strands thoroughly.
Rinse properly after 30 minutes with cool water.
Follow it up by washing with a mild shampoo and using an appropriate Let your hair air dry.
How Often to Do? 
Once or twice a week
Why Does It Work? 
Applying the conditioning mix of egg yolks and olive oil may stimulate hair growth by nourishing the hair roots
It may also promote hair softness and shine
Consistent use of this hair pack may help you to extract maximum benefits of egg yolk and olive oil for hair. Health experts recommend it mostly for people with dry, damaged hair.
Easy Egg Masks to Enhance Hair Growth
Applying egg masks on a regular basis may help you get luscious mane which is not just soft and silky to touch but also free of breakage and split-ends
Some easy egg masks for healthy hair can be:
1. Vinegar and Egg Mask
This beneficial egg mask can be a great way to get beautiful tresses.
Ingredients
A whole egg
A tablespoon of olive oil
A tablespoon of vinegar
Process Time
45 minutes to an hour
Procedure
Whisk the egg, olive oil and vinegar to form a smooth mix.
Apply the mask from roots till the tips of the hair strands.
After 45 minutes rinse off with a mild shampoo.
How Often to Do? 
Once every week
Why Does It Work? 
The egg imparts protein and deep conditioning to the hair. Vinegar acts as a powerful cleansing agent
Olive oil renders apt moisturization making the hair smooth, shiny and silky.
2. Egg and Honey Protein Mask
There may be many benefits of egg and honey hair mask for damaged hair
Applying the protein mask frequently may do wonders for the spoiled hair.
Ingredients
Two eggs
¼ cup olive oil
¼ cup curd
¼ cup honey
Process Time
30 to 45 minutes
Procedure
Whisk the eggs till they turn frothy.
Add the olive oil, curd and honey and blend well.
Comb out hair and apply the mixture thoroughly with a brush.
Wash off with cool water followed by shampooing.
Use a conditioner and let hair air dry.
How Often to Do?
One or two times each week
Why Does It Work? 
Honey and olive oil may extend intense moisturization to the hair thus making it an excellent hair mask for dry, frizzy hair
Yoghurt and eggs have protein which may support clearing up of dandruff and new growth of hair.
3. Mayonnaise and Egg Mask
This hair mask makes for an inexpensive way to provide deep conditioning treatment to the hair.
Ingredients
½ cup mayonnaise
¼ cup olive oil
An egg
Process Time
An hour or so
Procedure
Mix mayonnaise and olive oil well.
Add whisked egg and blend.
Apply on combed out hair and rinse off with cold water after an hour.
Shampoo and condition as usual.
How Often to Do? 
Once every week
Why Does It Work? 
Mayonnaise is a good source of natural oils which may enrich the hair
Eggs which are high in vitamins A, B and D along with natural fats may bestow nourishment to hair for its growth.
4. Egg and Olive Oil Mask
You can use egg as a whole or only the egg white to reap the benefits of egg and olive oil hair mask.
Ingredients
A whole egg or egg white of an egg
Two tablespoons olive oil
Process Time
30 to 40 minutes
Procedure
Crack an egg in a bowl.
You can separate the yolk from the white.
Transfer the egg white into a bowl.
Add the olive oil and mix well.
Apply the blend from the root till the tip of the hair.
Rinse off with shampoo and cold water.
Condition as normal.
How Often to Do? 
Once a week
Why Does It Work? 
Olive oil and egg together form a potent power-house of nutrients which may offer hair a moisturising lift
It can transform dull, lifeless hair to soft, smooth and shiny hair merely after one treatment.
5. Egg and Banana Hair Mask
This pack may have your hair looking vibrant and healthy in all seasons.
Ingredients
A banana (preferably ripe)
Egg whites of two eggs
¼ cup olive oil
A tablespoon of honey
Process Time
45 minutes or an hour
Procedure
Mash the ripe banana and mix in the olive oil.
Whisk the egg whites until
Blend the whisked eggs, banana mix and honey.
Apply on scalp and hair strands properly.
Wash with shampoo and then put some conditioner.
How Often to Do? 
One or two times per week
Why Does It Work? 
Banana possesses the goodness of antioxidants, vitamin C and B which greatly increases the benefits of egg and banana hair mask
It may hydrate the hair and help in taming frizzy hair
Combined with egg whites it may leave the hair feeling soft and shiny
It may add elasticity and manage scalp dryness, dandruff as well.
6. Egg and Fenugreek Hair Mask
This simple mask can be made from ingredients readily available in most households.
Ingredients
A whole egg
Two tablespoons fenugreek seeds
Process Time
45 minutes
Procedure
Soak the seeds in little water overnight.
Next morning blend the seeds into a smooth paste.
Add the egg and mix well.
Apply the mixture starting at roots till the ends.
Rinse hair thoroughly with shampoo.
How Often to Do? 
One or two times every week.
Why Does It Work? 
Fenugreek seeds have high levels of iron, protein and vitamin C which may boost hair growth and stop hair loss
It may also be effectual in battling conditions like dandruff, greying of hair
Together with eggs, it may enhance hair's softness and shine.
7. Egg and Onion Juice Mask
This useful hair mask may be the magic potion you need to grow long and gorgeous hair.
Ingredients
Juice of one onion
A whole egg
Process Time
30 to 40 minutes
Procedure
Whisk onion juice and egg nicely.
Apply it to scalp and hair properly.
Wash your hair with mild shampoo using cool water.
Follow it up by conditioner as usual.
How Often to Do? 
Once a week
Why Does It Work? 
Onion juice has antioxidants and sulphur which may prove advantageous for hair loss problem
Onion has antifungal and anti-bacterial qualities which can help relieve dry, inflamed, itchy scalp and fasten hair growth
Mixed with the egg it may help restore hair's natural lustre and regulate hair's natural oil balance.
8. Coconut Oil and Egg Mask
This valuable mask may be one of the best natural ways to grow healthy, luxurious hair.
Ingredients
A whole egg
Two tablespoons coconut oil
Process Time
30 minutes
Procedure
Break an egg in a bowl and blend the coconut oil into it.
Apply evenly over the scalp and hair.
Wash it off using cool water and shampoo.
How Often to Do? 
Once or twice every week
Why Does It Work? 
Coconut oil contains capric acid, lauric acid, a caprylic acid that stimulate hair growth and protect it from breakage and dryness
Its anti-bacterial properties keep scalp healthy and dandruff free
Put together with the egg it nourishes and conditions hair to ensure re-growth.
Does Eating Egg and Egg Supplements Make Hair Healthy?
Incorporating eggs in your daily diet can be the best way to get long and healthier hair
Consuming eggs every day may nourish the body with necessary protein, folate and vitamins which may become a catalyst for hair growth
You can also try egg supplements or pills available as distilled forms of egg proteins
However, there is no proof that the benefit of taking these pills will improve hair appearance and growth
It may be wise to consult a doctor before you consider taking them.
Potential Risks and Side Effects of Using Egg for Hair
Some possible side effects of using egg for hair can be:
In case you are allergic to eggs, avoid using them even topically.
Eating egg yolks in large measures can increase your chances of developing heart diseases as egg yolk is high in cholesterol.
Be careful while applying egg for hair conditioning lest it accidentally comes in contact with sensitive body parts like eyes, mouth or nose and causes irritation or reaction.
Eggs in hair mask can leave a pungent smell which may be tough to
The new mantra for good hair health can be "A whole egg a day may keep all hair problems away"
Using eggs for hair care can produce miraculous results in just a few weeks
It may be an easy, low-cost way to get the mane of your dreams.
Are eggs risky for heart health?June
Q.
Does eating the cholesterol in eggs really increase your risk of a heart attack?
A. From what we know today, here's the bottom line: for most people, an egg a day does not increase your risk of a heart attack, a stroke, or any other type of cardiovascular disease
No more than three eggs per week is wise if you have diabetes, are at high risk for heart disease from other causes (such as smoking), or already have heart disease.
This is definitely not what I was told by my parents, nor by my medical school professors
Back then, we knew that the cholesterol in eggs came from the egg yolks, and we knew that high levels of LDL (bad) cholesterol in the blood increased the risk of cardiovascular disease
So it seemed logical that avoiding cholesterol in the diet made sense.
Since then, however, research has shown that most of the cholesterol in our body is made by our liver-it doesn't come from cholesterol we eat
The liver is stimulated to make cholesterol primarily by saturated fat and trans fat in our diet, not dietary cholesterol
But a large egg contains little saturated fat-about 1.5 grams (g)
research has confirmed that eggs also contain many healthy nutrients: lutein and zeaxanthin, which are good for the eyes; choline, which is good for the brain and nerves; and various vitamins (A, B, and D
In fact, just one large egg contains 270 international units (IU) of vitamin A and 41 IU of vitamin D. One large egg also contains about 6 g of protein and 72 calories.
The evidence that cholesterol in one egg a day is safe for most people comes from huge studies-many conducted here at Harvard Medical School-that have followed hundreds of thousands of people over decades
They regularly report what they eat and all of the medical conditions that they develop
It is those studies that do not find higher rates of heart attacks, strokes, or other cardiovascular diseases in people who eat up to one egg per day.
Of course, it matters greatly what you eat with your eggs
The saturated fat in butter, cheese, bacon, sausage, muffins, or scones, for example, raises your blood cholesterol much more than the cholesterol in your egg
And the highly refined "bad carbs" in white toast, pastries, home fries, and hash browns may also increase your risk of heart disease, stroke, and other cardiovascular diseases.
Do I eat eggs regularly
I didn't in the past, but the new knowledge has changed my practice
I typically have a couple of eggs two or three times per week, so it averages out to less than one per day
Often, the eggs are mixed with fresh vegetables, herbs and spices, green chili, or salsa
There's whole-grain toast, with soft margarine (low in saturated fats and trans fats)
It's delicious, and the best current evidence says it's healthy.